Flag of Costa Rica

Puntarenas sits on a long, narrow peninsula in the Gulf of Nicoya on the Central Pacific Coast. The area is blessed with large amounts of sunshine and warmth. Like the name of the town, Puntarenas
is also the name of the Province it lays in. This province as far south as Panama. Puntarenas has fantastic flora and fauna, radiant beaches, incredible eco-adventure opportunities, and majestic national parks.
Panama forms the southwest border of Puntarenas. The city of Puntarenas sits at sea level and has a tropical climate. Rains are heaviest in the months of May, June, August, September and October. Average temperatures range from a low of 68.4 degrees F in January to a high of 95.2 in April. Beaches in the province of Puntarenas are cooled by breezes off the Pacific, and mountainous areas of the province experience more temperate weather.
Due to the fact that Putarenas Province is located near the Talamanca and Tilaran mountain ranges, it is home to a unique type of rainforest known as a cloud forest. The cloud forest is one of the most uncommon ecosystems in the world, and also one of the most threatened due to global climate change. The ever present clouds form when water evaporates off the sea or land surface creating a warm mass of air. The air mass is carried by winds until it strikes the side of the mountain. As the wind forces the mass of air and water vapor up the side of the mountain, it cools, and the water vapor begins to condense, forming water droplets that appear as clouds.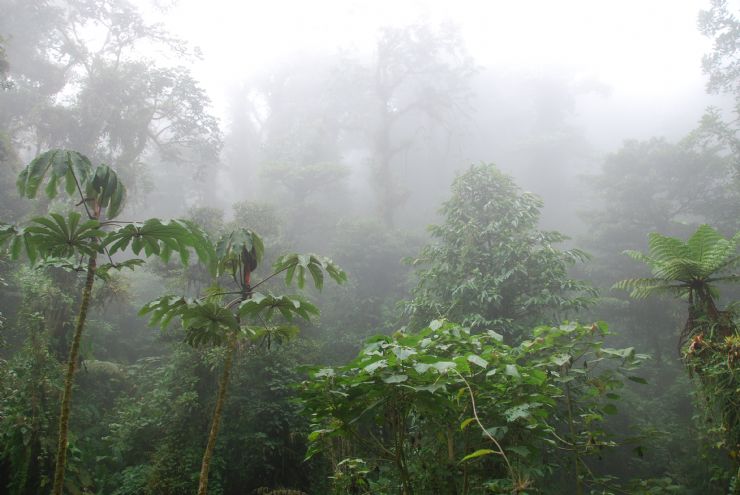 A forest in the clouds

The cloud forest is an environment, with an incredible amount of biodiversity found throughout its many misty layers. The cloud forest receives its nutrients not only from rainfall and the forest floor, but also from the ever-present and abundant clouds. As a result, the cloud forest is home to an incredible amount of epiphytes, or air plants, which grow everywhere but can be found mainly on the branches, trunks, and even the leaves of trees which create a unique home for numerous animal populations.

These rare ecosystems are valuable for their beauty and biodiversity conservation, but they also have value to those living around them. They maintain water cycles, provide food sources, and are often attractive centers of tourism and thus provide people with their livelihoods.

Unfortunately, tropical montane cloud forests are threatened by a number of pressures. These include the cutting of forest for wood and cattle grazing, climate change, hunting, and tourism. As people need more and more resources to survive, the threats to these forests increase.

O
bserve light and shadow in panoramas from the Monteverde cloud forest.
Investigate the value of the cloud forest ecosystem and the benefits it may provide to humans